Spring limited "strawberry 🍓 kamomenotamago" release date decided 🎉✨
kamomenotamago Familiar with kamome Terrace / Sanriku Confectionery Saito directly managed store / Finally Web Shop Then, spring exclusive "" 🍓 Strawberry kamomenotamago Will be released on February 25, 2022 (Friday) 😊😊😊
"" 🍓 Strawberry kamomenotamago 』\
A special kamomenotamago ✨ that can only be tasted during this season ✨ And it is a popular 🍓 😊 😋 😍
🍓 Release period February 25, 2022 (Friday) -Approximately one and a half months
🍓 Price ◇ 9 pieces 1,058 yen
◇ 5 pieces 588 yen * 5 pieces is a limited sale at the kamome Terrace / Saito directly managed store.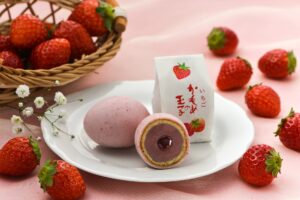 kamome Terrace / Sanriku Confectionery Saito directly managed store Then, they are sold individually one by one, and it is also recommended as an assortment of confectionery folds etc. ✨😊✨
* The sales period is a guide. It will end as soon as it runs out.
* The number of products manufactured is limited and may be out of stock.
* The final production will be on March 30th (Friday).
▼ Click here to purchase by mail order ▼
[ By phone Mail order ] 📞 0120-311-005
[ Click here for mail-order sales at the Web Shop ]
[ Click here for the Web Shopno TOP page ]
[Sanriku Iwate Ofunato kamomenotamago Saito Seika]