kamomenotamago Familiar with kamome Terrace / Sanriku Confectionery Saito directly managed store / Saito Web Shop Then, from today, June 4th (Friday) Summer only 💜 " Blueberry kamomenotamago Is now on sale 😁
Many fans "💜 Blueberry kamomenotamago Is finally here this summer 🤣🎊
Please try the special kamome notamago that can only be enjoyed at this time 😉
🔹 Release period June 4th (Friday) to mid-July
🔹 Price ◇ 9 pieces 1,058 yen
◇ 5 pieces 588 yen * 5 pieces kamome Terrace / Directly managed store Limited sale.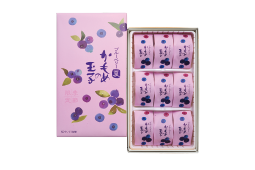 kamome Terrace / Sanriku Confectionery Saito directly managed store Then, they are sold individually one by one, and it is also recommended for assorted confectionery folds etc. ✨
* The sales period is a guide. It will end as soon as it runs out.
* The number of products manufactured is limited and may be out of stock.
[Kamome Terrace] 📞0120-311-514
[Sanriku Iwate Ofunato kamomenotamago Saito Confectionery]